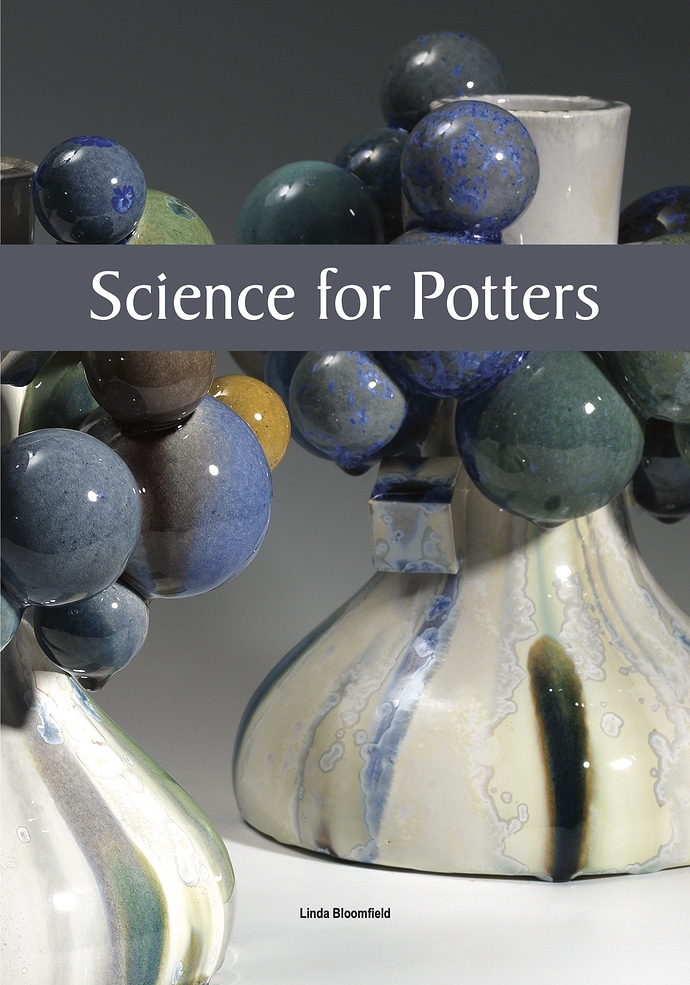 Buy at: https://ceramicartsnetwork.org/shop/science-for-potters/ (PDF download)
Buy at: https://www.amazon.com/Science-Potters-Linda-Bloomfield/dp/1574983849
Science for Potters, by Linda Bloomfield, covers those aspects of science that are useful to potters and that help to give a deeper understanding of ceramic materials and processes. By gaining a deeper understanding of materials, their structure, composition, origins, and how they interact, potters can have greater control over and new insights into their craft.
Many people think that science is a subject that is at the opposite end of the spectrum from art. But ceramic artists know that ceramics IS science as much as it is art. Trouble is, science is a subject that doesn't come easily for some. That's why Linda Bloomfield, who was trained as a scientist before becoming a potter, wrote Science for Potters .
You'll learn about:
the basics of chemistry in clear and simple terms
how the chemistry and structure of clay bodies affects their working properties
what makes a stable glaze
how materials interact in a glaze
glaze faults and how to correct them
substitutions for glaze materials that are no longer available
the glaze unity molecular formula and why it's so important
The basics and beyond!
Beginning with the basics, Linda covers the structure of the atom, how atoms combine to make compounds, and why some compounds can be used to make colored pigments and glazes. You'll discover how things like the Moh's Scale of Hardness can help you formulate scratch-resistant glazes or how the Periodic Table of the Elements pertains specifically to ceramics.
Geology and the potter!
Linda focuses on the aspects of geology, chemistry, and materials science that are relevant to potters. The properties of clays are explained by examining their chemistry and structure, and the various rocks and minerals used in glaze making are explored. By understanding how the structure of different clays affects their working properties, potters can select clays appropriate to the forming and firing methods they choose to use.
Glazing and Firing
Making sure your glaze fits your clay body is something that cannot be ignored by the potter, and a chapter is dedicated to glaze fit. Within that chapter, Bloomfield explains glaze faults and how to correct the. She also includes an exceptionally clear explanation of the changes that clay goes through during firing to become ceramic. The deeper understanding of materials, their structure, composition, origins, and how they interact will give potters greater control over and new insights into their craft.
Appendixes
Useful appendixes include a glossary, ceramic materials list, Orton Cone Chart, Phase Diagram for Silica-Almina-Calcia, materials analysis charts for both US and UK frits, clays and feldspars, a complete Periodic Table of the Elements and an index.
About the Author
Linda Bloomfield was born in Ithaca, New York. She grew up in England and studied engineering at Warwick University, with a year at MIT during her PhD studies. She spent a year in Tsukuba, Japan, working for NEC (Nippon Electric Company), then returned to London to work as a researcher at Imperial College. She started her pottery career while living in California, where she became familiar with US potters' materials. She now lives in London where she makes porcelain tableware, teaches glaze courses, and writes pottery books.